Greeting
The company was established in March 1980 and merged spray dryer manufacturer Kochiwa Kakohki Co., Ltd. in September 1980, received an investment from Tokyo Small and Medium Business Investment & Consultation Co., Ltd. in April 1984, with which it built a prototype of its current form.

In order to meet the needs of our customers, we are striving to improve the testing equipment that is essential to the production of better drying equipment, and have continuously improved and developed devices since our establishment.

We are making special efforts to win everyone's trust in the engineering sector based on the keywords "liquid atomizing, drying, and particle production."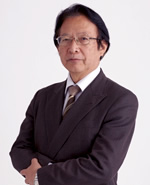 Masaaki Ohkawara, CEO

Thanks to all of you, as a leading company in spraying and drying technology in industrial sectors where Japan is strong, we have delivered many devices to East Asia, including China, Southeast Asia, Europe, and the US.

We established a joint venture in Shanghai, China in 1996, and an independently funded company in Suzhou, China in 2002, which serve as bases for sales and contract processing to meet the demands of users emerging in China.

We will continue to advance the development and improvement of devices, including through joint development efforts, raise our engineering capabilities, and contribute to society as a sound company so that we can be of use to our customers.