Twin Jetter NL Series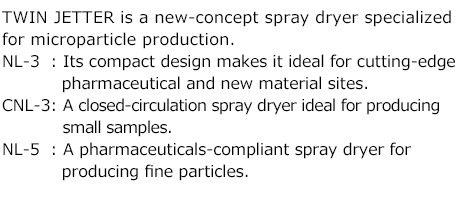 Standards and Specifications Table
Models
NL-3
CNL-3
NL-5
Inlet temperature
200℃
140℃(MAX200℃)
250℃
Evaporation volume
Moisture: 2.5 kg/h *1
Ethanol: 3.0 kg/h
Moisture: 2.5 kg/h *2
Moisture: 6 kg/h
*1 Guaranteed capacity is 1 kg/h when hot air inlet temperature is 200ºC and outlet temperature is 75ºC.
*2 Guaranteed capacities are; 1.5 kg/h for ethanol spraying when hot air inlet temperature is 140ºC and outlet temperature is 70ºC, and 1 kg/h for water spraying when inlet temperature is 200ºC and outlet temperature is 75ºC.
List of Functions
Features

1. Equipped with the twin jet nozzle we developed. Able to stably produce single μm size fine particles.
2. Has a compact main unit for installation and operation in research labs and development labs.
3. Packaged with everything that is required for operation. Operation is possible immediately after installation.
4. Transitions smoothly actual production. Operational data can be used effectively as scale-up data.
5. Line-up also includes models that dry combustible organic solvents.

Applications

Ceramics/Chemical products/Pharmaceuticals/Organic solvents

Industries

Electronics industry/Chemical industry/Pharmaceutical industry/Vehicle industry/Ceramics industry and fine ceramics/Steel and machinery industries

Specifications

Heat source (electric heater)
Atomizing method (nozzle)
Product recovery method (cyclone single-point collection)


Remarks

Moisture evaporation volume: 1 to 6kg/h
*1: Made-to-order according to model type and your required specifications.