FGA Series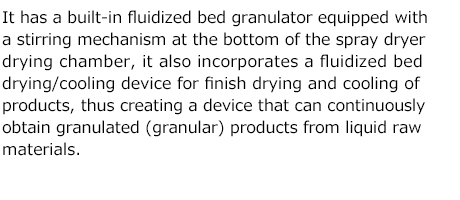 Standards and Specifications Table
| | | | | |
| --- | --- | --- | --- | --- |
| Models | FGA-8 | FGA-12 | FGA-16 | FGA-20 |
| Moisture evaporation volume | 5kg/h | 15kg/h | 30kg/h | 50kg/h |
* Moisture evaporation capacity values when operating at a hot air temperature of 200ºC and a discharge air temperature of 80ºC.
*1: Made-to-order according to model and your required specifications.
List of Functions
Features

1. Able to control product particles (50 μm to 400 μm)
2. Support changes in liquid raw material type and physical property.
3. No trouble at start-up, and can be fully automated.
4. Able to obtain high-quality products with excellent fluidity and solubility.
5. Able to produce products that are equivalent to conventional spray dryers.

Applications

Food/Chemical products/Pharmaceuticals/Other

Industries

Feed industry/Food industry/Chemical industry/Luxury goods/Other

Specifications

Heat source (electric heater)
Heat source (direct gas furnace)
Atomizing method (nozzle)
Granulating device (fluidized bed)


Remarks

Granulating device: Fluidized bed
Moisture evaporation volume: 5 kg/h to 50 kg/h
*1: Made-to-order according to model type and your required specifications.
*2: A special model using spray dryer technology.
*3: Heat source standard specifications vary based on model type.